Unlimited Beat Lease Explained
An unlimited beat lease is an agreement between an artist and a music producer that gives the artist legal permission to make a song using the producer's beat, but doesn't limit the amount of streams or sales the artist can generate with their newly created song.  
All beat leases, including an unlimited lease, are non-exclusive.  This means ownership of the beat remains with the music producer and they can continually sell leases of that same beat to other artists until someone purchases the exclusive rights to the beat.  
Advantages of Unlimited Beat Leases for Artists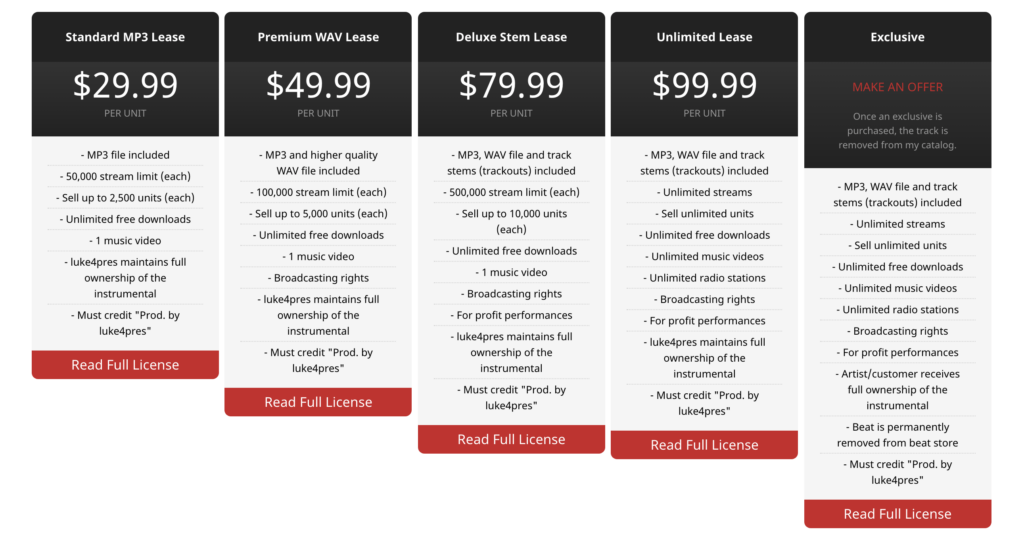 If you've ever visited a typical music producer's beat store, you've probably noticed a number of confusing beat lease options, most of which involve severe streaming and unit sale caps, limiting the revenue and exposure an artist can generate on the songs they make with the beats that they buy.  
Keeping track of streams and sales in real time across multiple platforms can be a major headache for artists and leave them vulnerable to legal action if they exceed their caps without upgrading their beat lease.  To make life easier on the artist, I've made all the instrumentals on my website available as unlimited beat leases only.  This way, you're free to use the beat in any way you see fit, on any platform and you can generate as much revenue as possible without having to worry about hitting a limit of streams, views or physical sales. 
luke4pres offers the most affordable unlimited beat leases online
Unlimited beat leases in the form of MP3, WAVs and stems make luke4pres Beats one of the most attractive places to buy beats on the internet, providing the most flexibility for the artist and bringing them the most affordable unlimited leases available today.  Check out my FAQ for more info on beat leases.